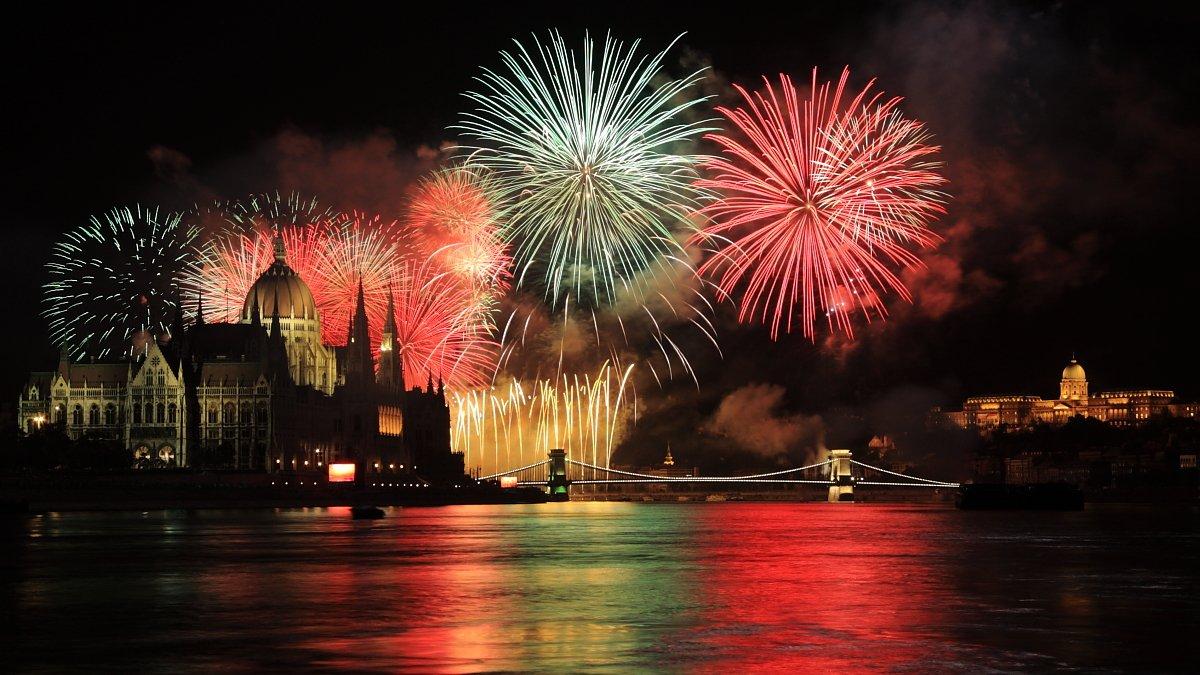 Select Date and Travelers
Overview
Are you ready for a first-hand experience of the greatest celebration in Hungary?
What to expect
The
anniversary of the state's founding
is celebrated with a
spectacular show of fireworks
and an
immense street parade
in the Hungarian capital. Be a part of the magic from the
 heart of Budapest,
while floating on the
River Danube
!
The
20th August celebrations
commemorate the
life and works of St. Stephen
, the first king of Hungary. Stephen's greatest achievements included
establishing a Christian state
and leading the integration of the nomadic Huns into European culture to ensure their survival.
Join the spectacle with a
3 hour river cruise
and enjoy
 unlimited drink consumption
with fabulous
Hungarian buffet dinner
to keep the party spirit going. Take in sights such as the
House of Parliament, the St. Stephen's Basilica and the Buda Castle with the Matthias Church and Fisherman's Bastion
on the Buda side as you listen to
live music from the famous Rajkó Folk Orchestra
to breathe in the Hungarian spirit.
Feel like a local as you savour a
bowl of goulash soup
, mingling on
paprika chicken
and sampling the
 famous Hungarian wines
while embracing the
floodlit beauty of Budapest.Once you are not able to fit any more delicious courses into your belly, head up to the open deck or balconies of the ship and let your breath be taken away by the most stunning firework show in the Central European region!
The ship will be anchored during the spectacle, then head out again to show you a city enveloped in the mist of the fireworks.

Enjoy complete service with dinner and open bar or stay with the unlimited drink consumption. Whatever your choice may be, an unforgettable time is guaranteed!

Inclusions:

Open buffet

Menu

Cold entries
Spiced cottage cheese cream and traditional greaves cream
Soups
Alföld style goulash with small dumplings
Vegetable cream soup
Warm main courses
Mini stuffed cabbage
Traditional chicken leg "Paprikasch"
Roasted chicken breast with basil-cheese sauce
Spicy pork rib with thyme – mustard sauce
Roasted sea fish with Chardonnay sauce
Garnishes and vegetarian
Grilled polenta with feta cheese
Grilled vegetables
Homemade dumplings with spinach and mustard-mushroom sauce
Hash-brown potatoes
Steak potatoes
Dumplings
Salads
Fresh seasonal salads with dressings
Italian pasta salad
Caesar's salad
Sweet corn salad with mayonnaise
Season fruit basket
Desserts
Home-made strudel
Somló style sponge cake
Mini tarts
Dessert variations Európa style

Unlimited drinks
Live music entertainment
Departure time:
The cruise starts at 19:00
Meeting time: 18:30
Duration:
Meeting point:
Id. Antall József rkp. 18, Budapest 1052
Meeting point
---
This is worth checking out
---
What others are saying (0 Reviews)
No one has left a review so far!