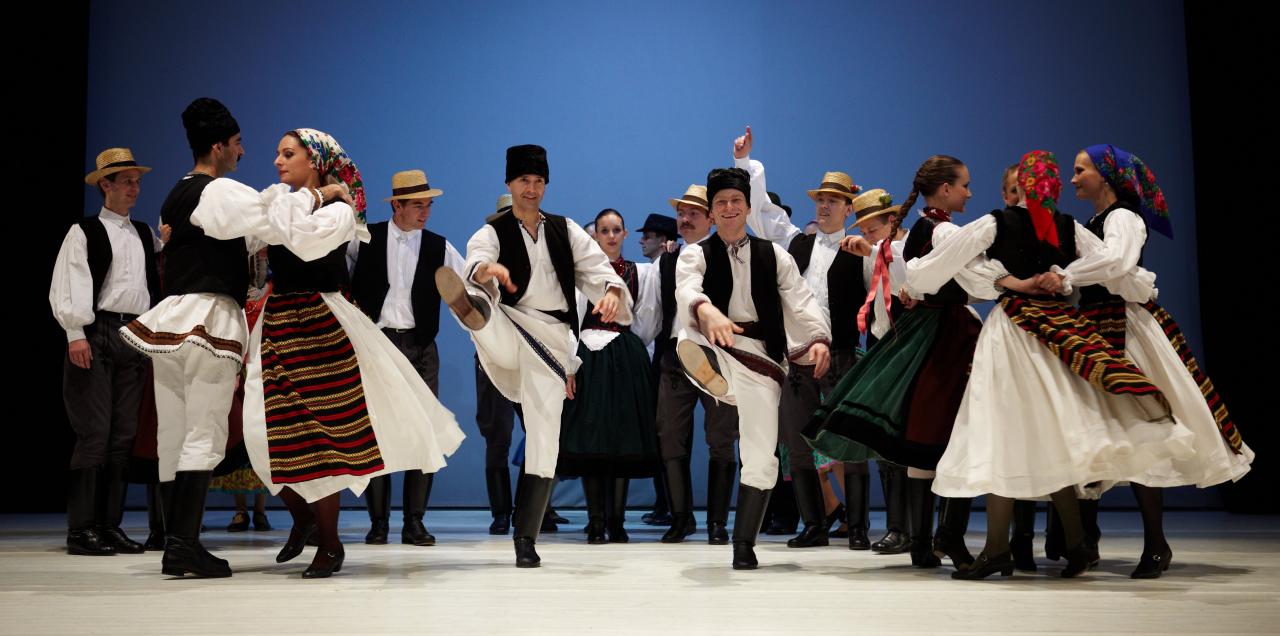 Duration: 90 minutes
Accessible with wheelchair
Select date and participants
Overview
The impact of folk heritage on Hungary's culture from music to performing arts, architecture and fine arts is peculiarly significant and unique to this land.
What to expect
Organised in the golden theatre hall of the historically significant Danube Palace in the city centre
, the
90 minute show
is headlined by
three of the country's most prestigious folk ensembles
, the world famous
Hungarian State Folk Ensemble
, the
Rajkó Folk Ensemble
and Orchestra 
and the
Danube Folk Ensemble
. With their
30 dancers
accompanied by
14 musicians
, the ancient culture of Hungary is evoked right in front of your eyes. From war, to celebratory and romantic dances the groups revive a diverse selection of elements from hundreds of years of
Hungarian traditions
all in
authentic clothing
and with
unmatched Magyar attitude.

Even if you do not usually like to get acquainted with the local traditions this is an experience you will surely not regret. Let yourself be entangled in a web of enchanting music from
virtuoso artists of an original Hungarian instrument, the cimbalom
and several string artists while your eyes linger on the exotic beauty of this peculiar dance genre.
Have yourself an extraordinary evening and explore Budapest from a whole new perspective!


Inclusion:
Hungarian Folklore Performance entrance ticket
90 minute perfomance
Transfer service if option selected

Transfer Service Information

1.Be ready at the reception of your accommodation-30-40 MINUTES PRIOR to the start of your activity and please note that the exact time of your pick up is based on the traffic and the popularity of the service on the selected date
2.In case you are staying in an accommodation without a reception desk, please wait outside of your accommodation for your chauffeur.
3.In order you would not like to use the drop offservice we are not able to provide a partial refund for the drop off part of the service.
4.Keep your phone charged andturned on, on the day of your activity. In case your phone does not have coverage in Hungary and roaming services are not enabled, please make sure to check your emails frequently for updates from the organiser.
5.You are entitled to a refund incase your complaints reflect the errors of the organising company and in case you have made a phone call to one of the below mentioned phone numbers at the site and time of your issue.
6.Please note: Fulfilment of last minute pick-up,drop-off requests received on the day of the program are not guaranteed and based on the available drivers.
7.Please note: In case the aforementioned conditions are not met, we are not liable to provide a refund
In the case of you not showing up for the pick-up intime and missing the performance as a consequence, we will reschedule your event for a later time if are able to, but without the transfer service.If this is not a possibility or you leave Budapest,the organizer will not be able to refund money to you for any of these services.
In case you have any queries regarding your pick up, drop off service please call the following phone number: +361 317 1377
In case of EMERGENCIES, call the following number: +3630 659 7007
Departure time:
Folklore Performance starts at 20:00
Meeting time: 19:30
Duration:
Theater/Meeting point:
 H - 1051, Budapest, Zrínyi u. 5.
Meeting point
---
Recommended products
---
What others are saying (0 Reviews)
No one has left a review so far!