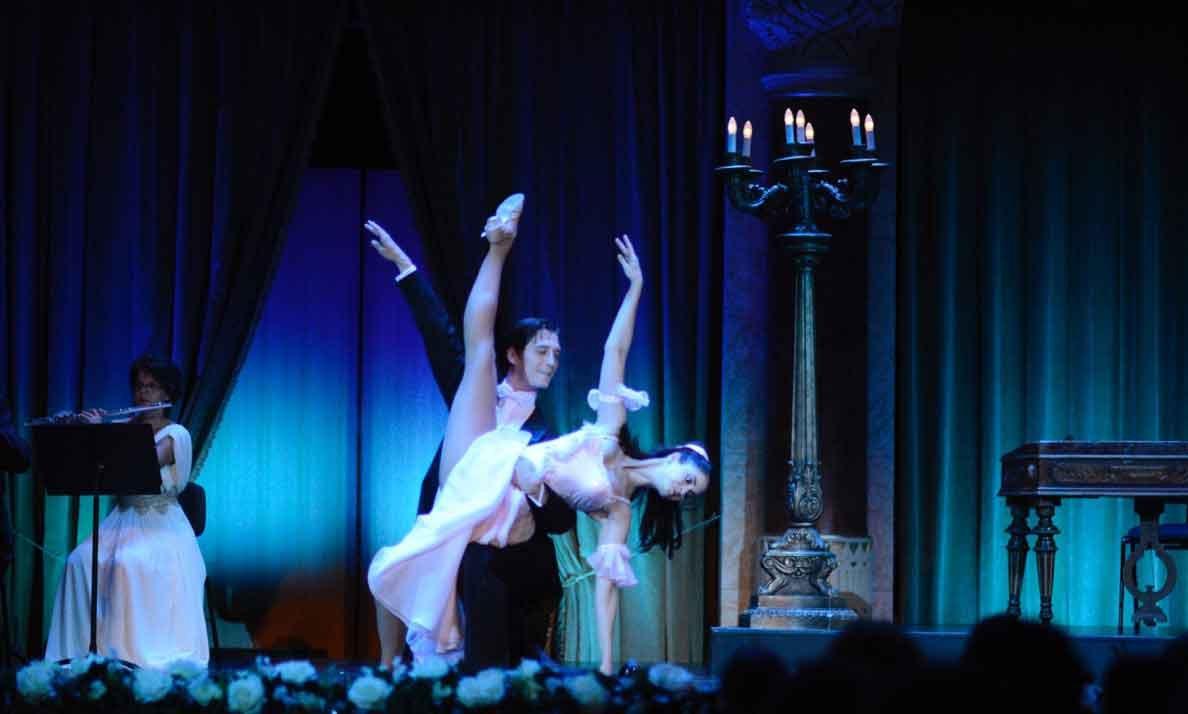 Select Date and Travelers
Overview
A special New Year evening concert consisting of a symphonic orchestra, hungarian folk song adaptations, operetta and ballet performances
What to expect
Music
always had a special place in the
Hungarian culture
. The country's unique folklore traditions, its numerous
world famous composers and musicians
had great influence in the European music life inspiring numerous foreign composers and artists.
Now you have the chance to experience this one of a kind harmony with the guidance of the country's best performers.

The show combines all the captivating elements of
Classical, Operetta, Hungarian folk and Gypsy music
, forming a truly exciting and precious event. One of the most famous Hungarian classical music ensembles, the
Danube Symphony Orchestra
is leading the performance, accompanied by
professional ballet dancers
for a more complex and vivid experience.
The program also features operetta performances by the soloists of the
world-famous Budapest Operetta Theatre.
To make the experience more colourful, a
special Hungarian instrument
,
the
cimbalom 
will be introduced. It is a truly unique traditional stringed instrument, which provides perfect harmony, accompanying the grand symphonic orchestra. We would also like to show you the Hungarian folk music heritage, by featuring traditional folk song adaptations performed by an authentic Gypsy ensemble. The show also includes a performance by one of Hungary's great talents from the national
"Virtuosos" talent show.


Inclusions:
90 minutes Gala Concert

Program

Part 1.

Hector Berlioz: Rákóczi March (Orchestra)
Zoltán Kodály: Intermezzo - from the Opera Háry János (Orchestra)
Johannes Brahms: Hungarian Dances No. 5. (Orchestra with cimbalom solo)
Béla Bartók: Roumanian Folk Dances (Orchestra)
Jules Massenet: Thais - Meditation (Kiss Zoltán, Orchestra)
Ferenc Erkel: Palotás – fromthe Opera Hunyadi László (Orchestra)
Franz Liszt: Hungarian Rhapsody No. 2. (Orchestra with cimbalom solo)

Part 2.

Franz Lehár: Eva-Waltz (Ballett Ensemble)
Emmerich Kálmán:The CzardasQueen – "Dasist die Liebe"
Franz Lehár: The MerryWidow- Medley (Orchestra)
Franz Lehár: The Merry Widow– "GrisettenLied und Kan-Kan" (Ballett Ensemble)
Grigoraş Ionică Dinicu: The nightingale (Gypsy Band)
A csitári hegyek alatt… (Hungarian Folk song, Gypsy Band)
Vittorio Monti: Csárdás Czardas (Gypsy Band)
Emmerich Kalman: The Devil-rider– Palotás (Orchestra, Ballett Ensemble)
Emmerich Kálmán: Countess Mariza– "Komm mit nach Varazdin"
Johann Straussjr.:Long livethe Magyar! Op. 332. (Orchestra)
Emmerich Kálmán: Countess Mariza– "BraunesMädel von der Pussta" (Ballett Ensemble)

Optional Late Night Dinner & Cruise package
Departure time:
The New Year's Gala Concert starts at 20:00
Meeting time: 19:30
Duration:
Theater/Meeting point:
 H - 1051, Budapest, Zrínyi u. 5
Meeting point
---
What others are saying (0 Reviews)
No one has left a review so far!