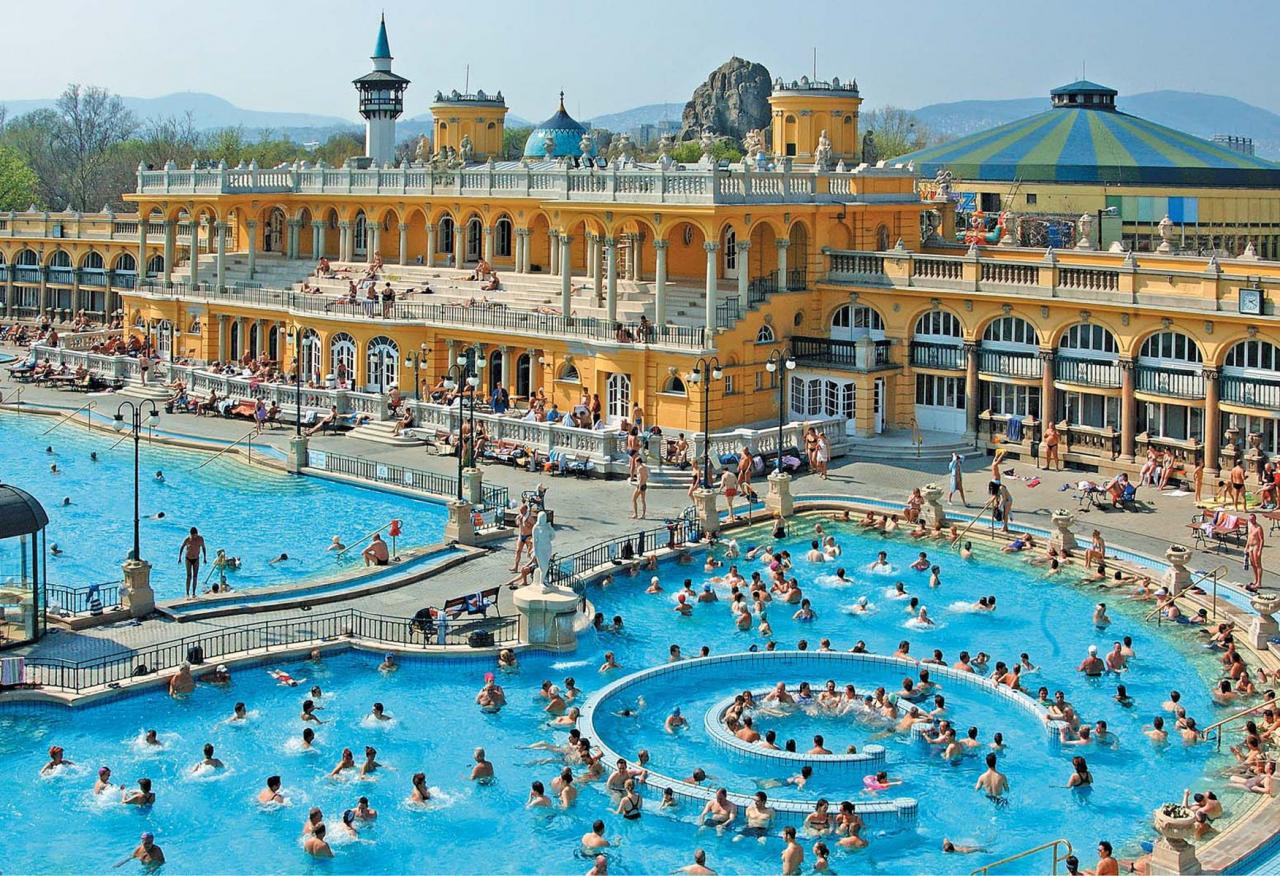 Select date and participants
Overview
Skip the Entry Line to the Széchenyi Spa and have a relaxing spa day! Delve into the world of spas with the largest thermal bath in Europe and enjoy the wide variety of its facilities any time of the day, whole year round!
What to expect
The
Széchenyi Spa
is one of the greatest prides of
Budapest
with its immense size, majestic appearance and huge popularity. Having
15 pools indoors 
and
3 open air bathing
facilities the spa is considered the largest in the whole continent. The bath's real peculiarity is its largest outdoor thermal pool with a consistently
40°C
water providing magnificent recreational pleasures in the coldest days of winter as well. Just imagine floating in a huge pool of healing water while snowflakes melt away on your body and piling up everywhere else around the pool.
The
Széchenyi
Spa
is feeding from the city's extended
thermal spring
network running below our feet. This hidden treasure have been attracting various settlers and cultures throughout history starting with the
Ancient Roman Empire
who developed their
 own bathing culture
in the location of today's Budapest during the 1st to the 5th century. The spa scene in Hungary is a truly diverse system that builds from elements of various different styles and cultures creating an experience that's just as indulging for the body as it is for the eyes.
Enjoy a
fast track entry to the largest spa of Europe
and choose from a large variety of treatments and massages for the ultimate body and soul rejuvenating experience!
Don't leave anything to chance and have all the essentials of an unforgettable bath time with the
 I Love Spa Package
!
Pool closures:
03.25-03.29. thermal pool,
04.01.-04.05. swimming pool,
04.08.-04.12. activity pool
Important: The ticket is only for one-time entry! You cannot exit and reenter the bath!
I love Spa package includes the entrance ticket!

I love Spa Package:
Contains
Entrance ticket with cabin of use
I love Széchenyi Spa towel
Flip flops
Shower gel
Bottle of mineral water

Optional massage types:(extra cost) 
Thermal massage 20 or 45 min.
Aroma massage 20 or 45 min.
Refreshing head massage 20 min.
Refreshing foot massage 20 min.
VIP massages:
Royal thermal massage 45 min.

The Massage

This stronger massage is based on Swedish techniques with a deep tissue effect providing an all-around treatment. Using a special thermal massage oil made from local thermal spring water, this therapy has an enhanced healing effect on the locomotive system.

Harmony aroma massage 60 min. (optional fragnances: rosemary, sweet orange, elder)

Frangrances

Dreamy Elderflower
As a sweet pamper, the Dreamy Elderflower Massage provides a rest for the body and soul alike. With gentle movements, a selected part, or your full body will be treated to the stunning effect of this miraculous massage oil.
Orange Joy
With the refreshing power of citrus oils, the Orange Joy massage will prove to be a true energizing experience. Gentle movements are applied on a selected part of, or your full body or a healing effect from the queen of all citrus fruits.
Rosemary Miracle
Utilizing the immense power of this ancient herb, you will be introduced to the healing world of the Hungarian herbaria. With gentle movements, a selected part, or your full body will be treated to a rejuvenating miraculous serenade by this 100% natural oil.

Hungary's treasures massages 60 min. (types: Herbal Pleasures from Mt. Matra, Hungarian Mud Therapy, The Original Hungarian Wine Therapy)
Thermal massage
: The massage is mainly used for locomotive issues and disorders. The masseur finds the problematic areas and applies a personalized treatment for you.

Aroma massage
: A calming, gentle massage applied with slow and soft techniques. High quality, skin-friendly oils are used for a pampering experience. Its main purpose is relaxing the muscles.
Inclusions:
Full day entrance ticket with cabin or locker option
I love spa package if the option is selected
Massage if the option is selected
Pick up service if the option is selected
Departure time:
Hungaria Koncert help desk is located in the SZECHENYI BATH by the main entrance on the right-hand side (which is in front of the Circus). Check in is between 09:00–18:00. The facility closes at 22:00 and the guests stay until closing time. However, you have to arrive before 6 PM. 
If you have a booked massage you have to arrive at the Help Desk 40 min. before. 
Duration:
Full day ticket
Massage duration depends on the selected option 
Meeting point:
H - 1146, Budapest, Állatkerti krt. 9-11
Meeting point
---
Recommended products
---
What others are saying (0 Reviews)
No one has left a review so far!